**Celebrating 60 years - Est. 1963**
All of our Vehicles are available for Charter, 24 hours a day, 365 days a year. Transfers to and from BIG EVENTS a specialty.

Luggage, gear, sporting equipment or musical instruments are not a problem with our Coach bins and enclosed Trailers.
Some of the groups who use our charter vehicles are:
We cater for Weddings, Birthdays, Fund Raisers, Social Club Functions, Bucks Parties & Hens Parties.
Schools
Colleges
Universities
Sporting Clubs
International Visitors
Local Businesses
Social Clubs
Other Bus Companies
Travel Agents
Wedding Venues
Create your own Special Event - host a Progressive Dinner, a Mystery Tour, a Pub Crawl or transfer a group from your home party in the suburbs to the city to keep on partying!
Check out our testimonials at the bottom of this page!
Our Commuters, Minis and Midis are also available for Self-Drive Hire.
Conditions of hire:
Drivers must hold the appropriate Licence for the vehicle
Drivers must be at least 25 years of age
Minimum charge is 100km per calendar day
Drivers with a standard Car Licence can hire up to a 12 seater
24 seaters require a minimum of an LR Licence
Price includes fuel and insurance
If the vehicle is damaged or in an accident, $1,000 insurance excess is payable.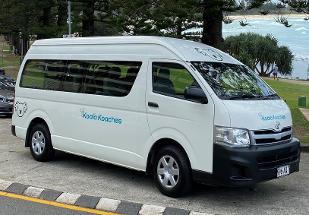 Secure, enclosed Trailers are available at no additional cost with your Charter or Self Drive Hire.

Trailers are also available for separate Hire.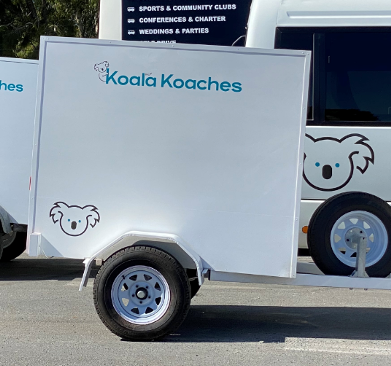 Thanks for another great year of support for our sporting program. Your drivers and all your office staff have continued to be extremely courteous and helpful in what I acknowledge must be a very difficult job at times. Please pass on my thanks to them all.
Andy
I would like to say thanks to you and your staff, Georgina and Kym, for looking after us on our AIH tour last Saturday. All members had a great day. The bus was on time, comfortable, and John was an outstanding driver and a great bloke. Myself and everyone who attended the tour would have no hesitation in recommending Koala Koaches.

Mitchell Skiller, Academic Officer, ACS Distance Education
Thank you for the fantastic bus service you provided for our tour. John was absolutely brilliant the whole time- totally flexible and accommodating and a great bloke too, and he really got us out of trouble when our flights home were cancelled.
Warm regards, Michael
Thanks so much for your support again of the College to enable our Sport Program to run as smoothly as could be!
Tara,Sports Leader
I would highly recommend the driver and your Company to anyone. He was fantastic and went to a lot of trouble for us. We really appreciated it, on our way to our Melbourne Cup Lunch.
Thank You, Tamara
We just wanted to say thanks so much to your team for last Sunday! Our guests had a ball on the buses.
Carly and Dan
Thank you for providing the transportation for the guests at our wedding. The bus was clean, punctual and we were very to happy with the service.
Many thanks, Rachel and Christopher
On behalf of my entire team, I would like to thank you and your drivers for the excellent service they provided during this week's MBRL closure.
We have been receiving nothing but accolades through Translink from their customers who traveled on the buses throughout the closure and all of them praise the drivers in their roles. Please pass on our appreciation of their efforts during this massive project.
Darren, Kangaroo Bus lines
I just wanted to say thank you to you & your staff for being very accommodating with the bus hire for our daughter's recent wedding at Summergrove Estate. I heard from guests that the bus driver was also very helpful to a young wedding guest who did not travel too well down the winding road after the celebrations as well as waiting for the guests who were reluctant to leave the celebrations. Your organization made my work much easier so thank you & I have no hesitation in recommending your company to friends & acquaintances.
Kind Regards, Bron
Could I just take the opportunity to thank you for the great service you provided us with last weekend. Everyone had a great time and all went very smoothly.
Regards Neil Segerdahl,Business & Finance Manager
Burleigh Catholic Parish,
We just wanted to say thank you so much for the great job your admin team and drivers did for our wedding in June.
We found you guys really easy to work with, you were all very helpful, in particular Bede when he took my call on the morning of the wedding after realising I'd made a timing error. Nothing was a problem and lots of our guests commented on how fun the bus ride was and how helpful and friendly the drivers were. We just wanted to say thank you so much for providing such a wonderful service.
Cheers, Jo & Brad
I just wanted to give some positive feedback on our driver, Jack, from Saturday. He was great! Very professional, even when dealing the drunken childishness in the back!!
Jenn
Thank-you for your excellent bus service getting our guests plus bride and groom to and from our wedding. Your service was well organised, ran perfectly to schedule and the bus was clean and comfortable. Everyone really enjoyed their trip as well and it made the day even more memorable.
Thanks again, Maretta & Milton
Thank you very much for Tuesday night, it was a great success and your employees were amazing and helpful!!

Craig, Human Resources Manager


A quick note to say thank you for the great service on Friday night. Our center won some very important awards and we were in great spirits! The driver obliged with music and was all in all a really good sport on the drive home. We would recommend you in a heartbeat.
Thanks again, Brooke
Koala Koaches | 18 Ramly Drive | PO Box 2432 BC | Burleigh Heads 4220 | Ph 07 5535 2711 | [email protected]